Toddler Beds: Features And Styles
When an infant grows, the child also outgrows his or her infant bed at the age of about two years. Hence, the need for children to be transitioned to toddler beds arises. These toddler beds are small beds but are just the right fit for toddlers.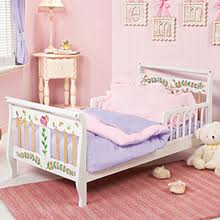 Features
Your toddler will still have the feeling of sleeping in a crib even if he or she is sleeping on a toddler bed already. Here are the key points about these beds.
Normally, low rails are present on the sides of toddler beds. The child can fall out of bed if the bed has no rails. These rails are present to prevent any accidental rolling of the child out of the bed.
Toddler beds are low to the ground. The bed's low height makes it easier for a child to get into or come out of it.
The mattress is often the same size as that used in an infant bed or a crib. Hence, you can still use the mattress that your child was using when he or she was still an infant.
Since toddler beds require only small room space, the child can still have more room to play in his or her own bedroom.
However, this type of bed can be used only for a short time, until your child is around 3 to 5 years.
Different Styles
Toddler beds are decorated with various themes such as pictures of cars, birds, animals, trees, mountains, toys, books and cartoons. While some beds are just simple and made with wood, steel or plastic frames, they are decorated with attractive and colorful pictures and cartons. There are other beds wonderfully designed and decorated for the kids such as:
The lofted bunk beds are very popular. Kids enjoy climbing the staircases. There are rocking beds, box beds and even truck-shaped beds. Box type beds are more suitable as these are furnished with adequate storage space for bedding and pillows.

Theme-based beds

are more popular with kids. The bed may have a shape of a truck or a carriage that charms your toddler.
There are also

convertible toddler beds

. They can be converted to a daybed or a twin bed when the child has outgrown.

Sleigh beds

for toddlers are among the beautiful, traditional styles made with solid wood and classic finishes.

Rollaway beds

will be appropriate if you have limited space. These beds come with foldable frame and mattress.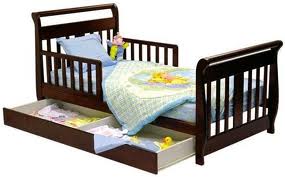 Don't compromise the quality of bed that your toddlers will have because this can directly affect their sleep. Always provide them with quality beds that will suit their needs.