The Serta Roll Away Bed Solution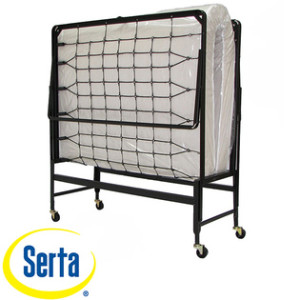 When all sleeping areas are occupied and the unexpected guest arrives it's nice to be hospitable and offer them a night's stay with a Serta rollaway bed.  These beds are also a help when a family member is unable to stay in their given room due to health issues. They are compact enough, when folded, to be put into a closet or an out of the way space. The four rollers make it easy to rollaway the bed to its stored location. The sturdy frame gives your bed long life to be used many times over by your guest. This rollaway bed has a long history of offering you the flexibility to provide your guest or loved one with a place to sleep without taking up any additional space when not in use.  An advertisement on The Milwaukee Sentinel, January 1, 1958 says, "Perfect for those who need that extra bed and don't have the additional space." It is also true today that the Serta rollaway bed serves your space saving needs as well as being faithfully available for those spur of the moment needs to host a guest. You will find that these beds are available at a variety of discount bed stores online. In addition, you may want to shop around for a discount Serta mattress to use instead of the one that comes with the bed. Your main purpose would be to add comfort should you decide to use the rollaway bed on a more permanent basis. You will find that when you purchase these beds they are of high quality and are available for use upon arrival. This is great because it will save you time, especially if your guest are due to arrive soon.
Serta rollaway bed choices:
Serta 30 inch rollaway bed with a poly fiber mattress
Serta 39 inch rollaway bed with poly fiber mattress
Notable features include:
Serta poly fiber mattress, original mattress that comes with the bed
Mattress is 30 or 39 inches wide, 73 inches long and 4 inches thick
Medium support
Heavy duty frame
Frame is 30 or 39 inched wide, 73 inches long and 14 inches high
Four wheels each with 2 ball bearing
Purchase Options:
Prices range from $160 to $200 or more depending on the bed you choose. The following companies offer rollaway beds and you may be able to find a great mattress deal as well.
Sears
Overstock
eBay
TheFind
Price Grabber
Amazon
You will find that prices are extremely affordable considering that the bed you order will be shipped right to your front door. The other nice thing about these beds being available online for purchase is that you can do some side-by-side comparison shopping to get the best deal.  Getting the best deal from the company you order a Serta rollaway bed from should offer great customer support. When the bed is shipped to you it is essential that their customer service reviews are good to ensure that you will be taken care of should the bed be damaged during shipping. Make sure the company you buy from is willing to repair or replace any parts if necessary.
Pros
Simplicity
Durability
Portable
No assembly required
Takes up minimal amounts of room
Soft and comfortable
Serta memory foam mattress adds additional comfort
Sturdy frame able to accommodate adults
Easy to fold and put away
Rolls nicely
Cons
Rollers may be damage during shipping if handled roughly
Both the 30 and 39 inch rollaway bed may not be suitable for tall adults
Not a whole lot of choices
You will find that there are a variety of alternative choices to the Serta rollaway bed but not many will be delivered to your door fully assembled and ready to use. If time means money for you then this is alone will add value. The price is excellent for a great product that will satisfy both you and your guest.