The Linon Luxor Roll-A-Way Bed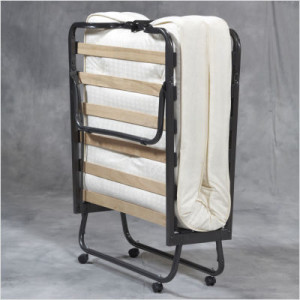 The Linon Luxor rollaway bed is another easy solution to the age old problem of not having a spare bed or bedroom for your visiting guests. The Linon Luxor is both comfortable and portable; and an excellent value when it comes to rollaway beds. This bed can also be used as an affordable option in your studio apartment or a dorm room coming in at around 170 dollars compared to the 400 or 500 dollar conventional options offered at local mattress stores for something of comparable size and comfort. The Luxor is a twin size rollaway bed and comes complete with a comfortable and luxurious memory foam mattress for a great nights rest. The frame is extremely sturdy and durable with its metal construction and glossy black finish. Ease of movement is made simple with the inclusion of steel caster wheels. Set up is simple and fast… when you're done, simply fold it back up and roll it away anywhere you want. The Linon Luxor fits in most spaces you might have available for ease of use.
About Linon Home Decor
Linon Home Decor Products has created an incredibly good reputation for themselves by giving you the best products at the best possible prices. Linon Home Decor offers excellent quality, great style and supreme functionality with their home furniture offerings. They offer a "total commitment of quality, service and value" that is unmatched in the home decor industry.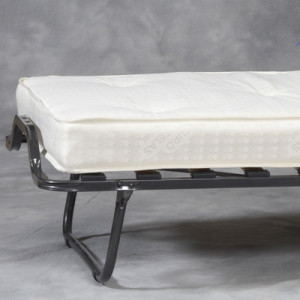 The Linon Luxor rollaway bed features:
Ease of movement for college dorms or an extra bed for guests
Black-finished metal frame folds and opens with ease
Rolls on caster wheels for easy mobility
Includes twin size memory foam mattress
Dimensions: 79L x 31.5W x 15.75H inches
Don't let your guests sleep on the floor. Instead, offer them the Linon Luxor bed so everyone can wake up well rested and ready for whatever their day has in store for them. Below is a list of retailers the deal in Linon Home furnishings. Prices vary; but not too much. The median price you will find is around 170 as stated earlier. But here is a simple list of pros and cons to aid in your purchase decision:
Pros
Ease of movement
Portability
Space saver
Memory foam mattress
Quality name you can trust
Cons
Some minor assembly required
Only comes in black frame color
Overall, we felt the Linon Luxor rollaway bed offered great value and a good nights sleep for your guests.  The memory foam mattress is quite honestly what sealed the deal for us.  Very pleasantly surprised!